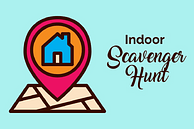 We are inviting everyone to stop in on June 10 or July 8 to pick up a list of items and explore the museum to find them. Lists are available from 9:30–11:30 AM, and the hunt will officially be over at noon.
Admission is $5 per person, with the money going towards our Revitalization Fund, which we plan to use for improving air quality in the basement and for repaving the broken part of the driveway.
Upcoming Event:
Indoor Scavenger Hunt
Summer Hours:
The Museum is open Tuesday-Friday 1-4PM, or by appointment.
The Schryer Center is open Tuesdays and Thursdays from 10 AM-3 PM, or by appointment.
Call 518-483-2750 or email us for more information or to book your tour/research hours.
Virtual Fieldtrips Now Available!
Enjoy the museum from the comfort of your classroom
Sign your students up for virtual fieldtrips to great-great-great grandma's kitchen!
The Franklin County Historical and Museum Society preserves and presents the county's history in a meaningful and accessible way to anyone with past, present or future connections to our county. Society members passionately engage with Franklin County history to collect, preserve and interpret objects and documents integral to county life and to delight young and old with Franklin County stories in our museum, library and archives.
FCHMS was incorporated in 1903 by a group of prominent citizens and reorganized in 1963. Our museum and headquarters are located at The House of History, an 1864 Tuscan-style brick home one block from Main Street in Malone, NY. The Schryer Center for Historical & Genealogical Research is located in the renovated Carriage House on said premises. The Society's collections, records and daily operations moved to The House of History in 1973 when it was purchased from the Kirk Family.
MEETINGS
Board of Trustees Meeting:
First Monday of the Month at the Schryer Center
Upcoming meeting: June 5, 2023 @ 4:00 PM